Custom Web Design
Delrio Design provides web design, social networking consultation, search engine optimization and content management. We are fast, friendly, affordable and professional. We can help you keep your web site up to date, or teach you how to do it yourself.
Delrio Design was founded by Lisa Hoover in Texas in 2003. The company is now located in mid-Missouri, with clients in both Texas and Missouri. Lisa holds a degree in Computer Information Systems and has been an information technology professional for 25 years.
Lisa designs each site from scratch, based on what each client is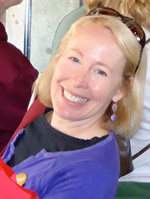 looking for. (None of her cients have a bright orange and green website.) Her web pages are fast, efficient and search engine friendly. Each one is very different from the last.
Some of Delrio Design's clients include: